What would you want for the next Adair County Fairgrounds?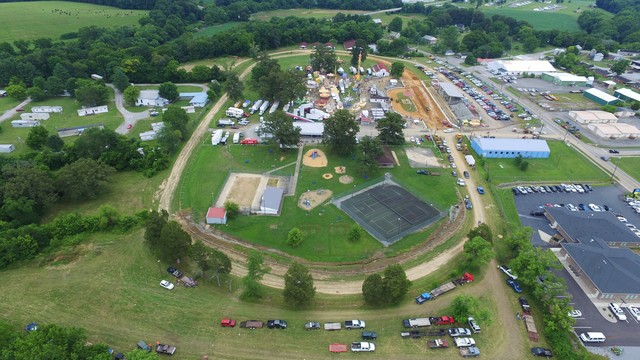 Click on Aerial photo at left for larger photo, caption when taken. 2016-07-03 - Adair County Fairgrounds, 413 Fairground Street, Columbia, KY - Photo by Jason Mardis, Aerial Concepts, Columbia, KY (c) Phone 270-250-1867
---
See also:
Papers signed today 22 Jul 2016 for sale of AC Fairgrounds
---
Click on headline for full story
ColumbiaMagazine.com(c)
Since the announcement of the sale of the Adair County Fairgrounds to Lindsey Wilson College, the discussions have centered around If, What & Where for its successor. Maybe the answer will come in formal statements from the VFW and Lindsey Wilson College, expected in the next 48-72 hours. But we wonder - What do you think? Here are some of the options we've heard with a few that just materialized out of thin air?
An all new, Adair County only fairground very close to to the city of Columbia.
Holding the fair in with an existing fairground in Russell Springs, Liberty, Campbellsville, Greensburg, Edmonton, or Burkesville.
Building a new Tri-County Exposition/Convention Center at Coburg, to serve primarily Adair, Taylor, & Green Counties
Building a new Adair-Russell Exposition Center to serve primarily these two counties
Keep the fair going by utilizing existing venues with a Progressive Fair, centered around Downtown Columbia and the Old Courthouse, the Adair County School District Campus, the Jim Blair Center and the adjacent Downey Property rented for a carnival midway, Lindsey Wilson College main campus, Lindsey Wilson College Sports Complex, the Adair County Extension Service campus, the Columbia/Adair County Airport, and church campuses which might participate. Shuttle buses would provide transport between venues. Special parking would be provided for Canadian Tour Busses, CNN news teams
Moving the Fair to Knifley make it part of Revisit, and capitalize on the better Fall Weather.
Allow a hiatus while a perfect plan is thought out. Perhaps two years.
Something entirely different from any of these proposals.
Think the unthinkable and just let this Great Tradition of Excellence fade into history, with no community effort to replace it.
We don't want to think about it. Adair County needs to stay focused on more important things, like jobs. (Unless you see this as, on balance, an additional impetus to Economic Development)
If you have thoughts on any of these ideas, or other solutions, why not share them. Use the any
Contact/Submit link
or the Contact Form with this article to submit. If you have questions, call
270-250-2730.
Here are links to opinions
Bob Barnes. Posted on 2016-07-24 17:04:23
This story was posted on 2016-07-24 12:02:09
Printable:
this page is now automatically formatted for printing.
Have comments or corrections for this story?
Use our
contact form
and let us know.