Kentucky Color - A bird hunting story and a mystery?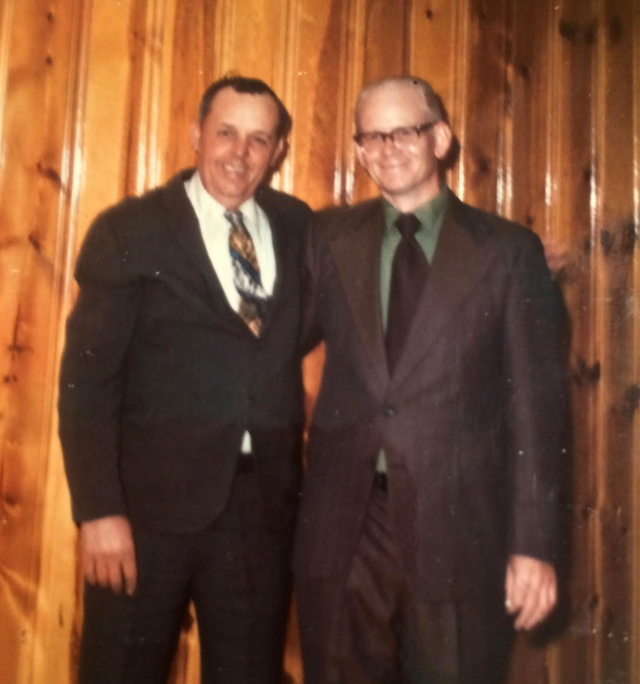 Does anyone know the identity of these two men, Billy Joe Fudge's father and his "best friend" in this tall tale?
---
Click on headline for complete story, larger photo
By Billy Joe Fudge
This man was one of Dad's best friends. Everyone, according to my recollection, was Dad's friend but only fellow "Bird Hunters" fell into the "Best Friend" category.
As we all know, hunters have always had a reputation for s-t-r-e-t-c-h-i-n-g the truth. However, Dad found out on one of his trips to town that non-hunters also suffered from the, truth stretching affliction.
Dad's Best Friend grabbed him by the arm, jerked him from the sidewalk and into his store on the Square. (Do you remember the store?) He told Dad that he was so very disappointed in him because of the news he had received.
He told Dad that a farmer had come into the store with a complaint about something Dad had done. The farmer said that he had a covey of quail numbering 48. (Of course, all knowledgeable about such things know that coveys rarely pass 24 or 25 in number without breaking into smaller coveys.)
The farmer proceeded to tell Dad's friend that he gave Dad permission to hunt but could not believe that Dad had disrespected him by shooting over a hundred times in the process of killing 40 birds.
Dad replied quickly and firmly, "that is a lie and could not be further from the truth. I only shot 38 times because I killed two with one shot, twice!"
This story was posted on 2016-02-10 06:41:51
Printable:
this page is now automatically formatted for printing.
Have comments or corrections for this story?
Use our
contact form
and let us know.