Chamber Insights. Complete September 2010 Issue
In this issue:
---
President's Message: Ron Heath - What the Chamber does
Corporate Sponsor of the Month, Pam Hancock, McDonald's
Spotlight on new member, James E. Goodin
Looking ahead: Calendar of Chamber Events
Gift idea for all on your list: Adair County Courthouse Clocktower Ornament
Business Tip of the Month: Amy Thompson
How to make text larger in Windows XP: Ramie Hutchison
Editorial: Be Unrealistic by Sue Stivers
---
Welcome to Chamber Insights - September 2010
The monthly newsletter of the Columbia-Adair County Chamber of Commerce.
Editor: Sue Stivers
President's Message: Ron Heath
Feature Writers: Ron Heath, Sue Stivers, Ramie Hutchinson, Amy Thompson, Kathy Johnson

The Purpose
of the Columbia-Adair County Chamber of Commerce is to promote and enhance the Business, Cultural, Educational and Civic Well Being of Columbia and Adair County.
"Thought of the Month"
"Every day shines when we let our positive attitude show"
PRESIDENT'S MESSAGEBy Ron Heath
When the board of directors met in January, 2010 to set goals for the year, the members agreed that one of our greatest challenges is to increase the visibility of the Chamber so area residents and businesses can fully appreciate the work the Chamber of Commerce is doing in our community. This has proved to be a real challenge. Despite good support from the local radio stations and newspapers as well as
ColumbiaMagazine.com
to publicize events and programs, some people still ask, "What does the Chamber do?"
No other organization in the community does more to promote Columbia and Adair County as a "Great Place to Call Home."
From January 1 - June 30 the Chamber office responded to more than 8,200 requests for information from walk-in visitors, phone calls and e-mails. That averages out to more than 45 contacts/day, seven days a week.
These requests are for information about where to find goods and services in the community, where to find houses for sale or rent, what schools and churches are in the area, and other general questions from businesses and individuals looking to locate in this area.
Since the Chamber of Commerce has a national reputation people know that's where they can go to find out information. Without our local Chamber office where would people go to get information or questions answered about Columbia and Adair County?
During the year, the Chamber sponsors many programs and events to help promote area businesses and enhance the quality of life for area residents:
Christmas in Columbia annually brings hundreds of people into the community to eat and shop


The annual Wares Fair at Lindsey Wilson College gives businesses an opportunity to show more than 700 students, faculty, and staff what goods and services are available right here in Columbia


Treats on the Town provides a safe way for more than 1,200 children from Columbia and Adair county to have a safe Halloween


Seminars like "How to Buy and Sell on E-Bay" and "Changes in the Tax Laws" which were offered this year provide information that people can use to increase their income and save money on taxes


Partnering with the Parks and Recreation Board the Chamber co-sponsored the concert downtown during Buy, Swap, Trade, and Sell Days
The monthly Chamber meetings offer an opportunity for businesses and individuals to get together to hear about issues that impact the community. The lower level of the Chamber building is used as a meeting place by countless groups during the year. In addition the Chamber has developed and maintained the Roadside Park which is often used by groups and families for picnics and reunions.
All of this is done at little or no cost to area residents because the Chamber is able to work with area businesses to seek their support in sponsoring these events and programs. The members of the Chamber of Commerce Board of Directors are all volunteers who put in many hours of service because they all want to make their home community better for everyone. We want to make Chamber programs and events as meaningful as possible for the community. If you have comments or suggestions about programs the Board of Directors might consider please contact the Chamber office at 384-6020 and share your ideas. We want to hear from you.
CORPORATE SPONSOR OF THE MONTH - MCDONALD'S OF COLUMBIABy Pam Hancock
In 1955 Ray Kroc opened the First McDonald's restaurant in Des Plaines, Illinois - - he was a salesman who invested his entire life savings to become the exclusive distributor of a five-spindled mile shake maker called the Multimixer. Hearing about the McDonald's hamburger stand in California running eight Multimixers at a time, he packed up and headed west. This was in 1954. He was 52 years old.
Dick and Mac McDonald were brothers who had the hamburger stand that Ray went to see. He pitched the idea of opening several restaurants to them, convinced that he could sell eight of his Multimixers to each of the new restaurants. "Who could we get to open them for us?" Dick McDonald said. "Well", Kroc answered, "what about me?" And that is how McDonald's began.
McDonald's of Columbia opened July 16, 1992, 18 years ago. My father, David Branscum owns 5 McDonald's restaurants - - Russell Springs, Monticello, Edmonton, Albany and Columbia. My sister and her husband have 5 restaurants, 3 in the Corbin area, Williamsburg and Barbourville. I began my career as store manager here in Columbia for eight years. I then supervised Columbia and Edmonton for 3 years. I was the Business/Deployment Manager for all 10 stores for 5 years as well as teaching ServSafe for our organization.
I am currently overseeing my fathers 5 stores as the Director of Operations. I became part Owner of our McDonald's in Columbia in 2006. I am currently the Owner/Operator Lead for People for the Ohio Region serving over 700 locations. I also hold the position as the People Team Chairperson for the Lexington Co-op, which consists of rewards and recognition of Managers in 64 restaurants in Central and Southeastern Kentucky.
SPOTLIGHT ON NEW MEMBER
The Chamber is always pleased to welcome a new member to the Columbia-Adair County Chamber of Commerce. This month's new member is
James E. Goodin of 649 Sulphur Creek Road, an employee at summit Manor, 400 Bomar Heights in Columbia. Phone: 384-7201.

By joining the Chamber, you become a part of an organization that is dedicated to the economic growth and prosperity of Columbia and Adair County. Your investment in the Chamber means an "investment" in "Your Community". This is your Chamber...Your business voice in our community...helping to make Columbia-Adair County "A Great Place to Call Home". Remember, what you get out of a membership association is what you put into it. You are encouraged to get involved today!

LOOKING AHEAD...SCHEDULE OF EVENTS


Sept. 25 - October 10: The Kentucky Experience, World Equestrian Games at KY Horse Park Lexington
October 2: Heritage Arts & Crafts Festival at the Giles House, Knifley.
October 9: Downtown Days
October 21: Ronald McDonald Wish List Event - 5:00 to 8:00 pm (Parking Lot behind Chamber building)
October 30: Treats on the Town (Saturday - Halloween Eve) - 5:00 to 8:00 pm
---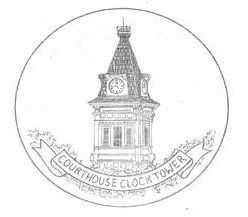 Adair County Courthouse Clocktower Ornament on sale

Sue Stivers, Executive Director of the Adair County Chamber of Commerce,
writes, "The Chamber of Commerce would like to remind everyone that a limited number of the first in a series of ornaments. is available at the Chamber office, 201 Burkesville St., for the price of $12.00. With the Holidays just around the corner, what better gift to give than a part of Adair County History, that can be treasured for years to come." Call (270) 384-2760 for more information.
Call (270) 384-6020 for more information.
---
BUSINESS TIP OF THE MONTH
Amy Thompson, Senior Branch Office Administrator for Edward Jones shares seven tips for hiring a new employee.
Create a rounded job description
Determine the compensation package
Set a realistic timetable for search
Advertise your job
Interview
Make the selection
Train
HOW TO MAKE TEXT LARGER IN WINDOWS XPBy Ramie Hutchinson
No matter what age you are, sitting in front of a computer for a long period of time can be tiring on the eyes and sometimes the standard Windows font is just small enough to be irritating and painful.
In the next few paragraphs, I will give you step by step instructions on how to enlarge the text throughout Windows XP, making your PC easier on the eyes.
First,
minimize or close all open windows so you can have a clear view of your desktop (The main screen of your computer).
Find a blank spot without any program icons and right-click your mouse. When you right-click, select the
Properties
option in the right-click menu. From there you will see another menu window pop up.
At the top of this menu you will see several tabs, one of which is
Appearance.
Choose it
Under the
Appearance
tab, you will see three drop-down menu bars;
Windows and buttons, Color scheme,
and
Font size.
Click the
Font size
drop-down menu. By default, Windows XP sets the font to
Normal,
you have the option to change it to
Large Fonts
or
Extra Large Fonts
.
After selecting the size you want, you should see a dramatic difference in your PC's font, in turn making working on your computer easier on the eyes.
I hope this was a helpful tip and keep your eyes peeled for next month's tip from Duo County Telecom.
EDITORIAL OF THE MONTHBy Sue StiversBe Unrealistic.
Recently I came across a statement that caught my attention... "You are never given a wish with out also being given the power to make it come true". I began to think about the word unrealistic, so let's take a closer look at this word. Was it realistic, in the early 1960's for John F. Kennedy to proclaim that we would put a man on the moon by the end of that decade? Ten plus years ago, was it realistic to believe that millions of people worldwide would be exchanging emails or texting every day? Was it ever realistic to believe that a sheep could be cloned?
As you will probably admit, all of these things were unrealistic. And yet, all of them were accomplished! Why? Because certain people dared to "dream big" and took the steps necessary to bring their visions into reality. Take a moment to think about it. Are there any goals that you have given up on...or hesitate to pursue...because you decided they were "unrealistic"?
Whenever you're doing work for which you are very well-suited, it's likely that some BIG goals are going to pop into your mind...grand ideas with huge payoffs that will benefit you and (hopefully) many others as well. If you are like most people, however, it's equally likely that a little voice inside your head will immediately dismiss these goals as crazy, outrageous and, of course, unrealistic! After all, how could YOU possibly hope to accomplish such incredible outcomes?
Take Ed Waggener for example. Thirty years ago, would he have thought that he would be reaching people around the world with a successful website "ColumbiaMagazine.com"? Even though, he was educated in communications, journalism and had become a great writer...he had an idea...to start a website. And today it is read daily by people in every State of the Union and many foreign countries.
Look at what Kaye Bowman, David Bowman and Stacey Wilson, the founders of Community Medical Services have accomplished by having a dream and following their dream. Some people would have said their goal was "unrealistic" and they were "out of their minds", I only point this out to say dreams and ideas are not "unrealistic". I mention Community Medical Services because they were recently chosen as the winner of the 2010 Excellence In Entrepreneurship Award. The distinguished EIE Award was presented to co-owner Stacy Wilson at the Award Luncheon held at the Center for Rural Development in Somerset by U.S. Congressman Hal Rogers.
Emphasis in our country today is on entrepreneurship. Congressman Hal Rogers said, "Entrepreneurs are visionaries with detailed plans. Their success in execution strengthens the hinge in our economy by employing our families and widening the local door of opportunity".
Do you have a vision or an idea? Never think that it is unrealistic. Pursue your dream.
If you are interested in making your dream come true, schedule an appointment by visiting the Chamber of Commerce/Economic Development Authority office, 201 Burkesville Street, or call (270) 384-6020 or 384-4401. Discuss your idea with Executive Director Sue Stivers, and who knows your vision may become a reality.
This story was posted on 2010-09-25 03:33:18
Printable:
this page is now automatically formatted for printing.
Have comments or corrections for this story?
Use our
contact form
and let us know.