Kentucky Color: Pa Fudge's Family ca. 1932 or '33
---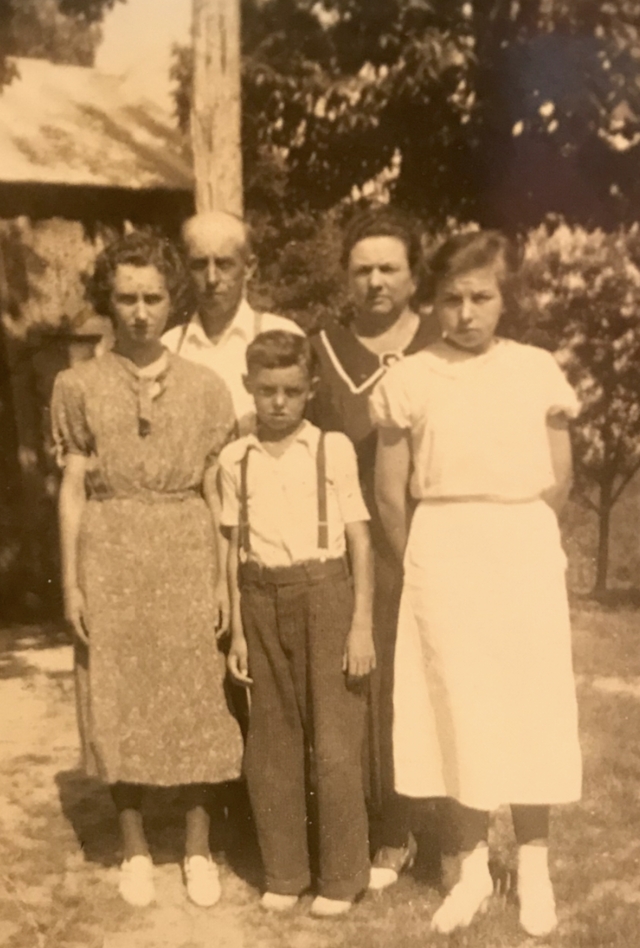 Pa Fudge's family was getting along famously
during Great Depression, in Toria, Adair County, KY
---
Click on photo for complete story, then scroll down for full sized photo
By Billy Joe Fudge, President, Homeplace on Green River
The Great Depression had a devastating effect upon the worldwide economy during the 1930's. However, by looking at this picture of my Pa Fudge's family of Toria Kentucky taken around 1932 or `33, it appears that they might have been getting along famously.
I'm no fashion expert but Aunt Isly on the left, seems to be wearing much more than a feed sack dress with bows on the sleeves. Aunt Eula on the right in her usual stylish self, along with Ma Fudge, appeared to be rocking some low heels.
The utility pole standing behind Pa was almost certainly supporting the single wire of their local crank phone system.
Since there was no air conditioning the folks of that time were constantly aware of the need for shade and I think I can see evidence of a planted row of head high, deciduous trees behind Aunt Eula and Ma.
Dad, when queried concerning the plight of his family during The Great Depression, would always reply, "We didn't have any money before the depression but had plenty to eat. We didn't have any money during the depression but had plenty to eat and never have had any money since but had plenty to eat. To tell you the truth, I didn't see much difference."
- Billy Joe Fudge
This story was posted on 2018-07-23 04:30:14
Printable:
this page is now automatically formatted for printing.
Have comments or corrections for this story?
Use our
contact form
and let us know.