Kentucky Color - Not a Wooly Worm but...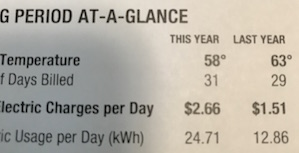 By Billy Joe Fudge
Well, its not a Wooly Worm but I have garnered some interesting information which might give us some insight into this Winter's, weather.
This is my Mom's electric bill for October and as you can see, the average daily temperature was 5 degrees cooler this year when compared to last year. Is this a trend?br>
< I remember the month of July was the same 5 degrees cooler than last year while August was 7 degrees cooler than last year. I apologize that I cannot remember the month of September but I remember September being fairly warm this year but of course, it goes without saying that I cannot remember the temperature for September 2016. If someone still has their September 2017 bill laying around on your counter top or you have it filed in the "Dispose of in 17 years" pile, you might check on the comparison for that month.
At any rate, given the factual information we have on hand, I believe we can safely say that there is an apparent trend developing. Will that trend continue on forward to give us a colder Winter than last year? I really can't say but when I can find a Wooly Worm, I'll let you know!
This story was posted on 2017-11-21 10:06:31
Printable:
this page is now automatically formatted for printing.
Have comments or corrections for this story?
Use our
contact form
and let us know.