JIM: Buchanan-Lyon comes to Columbia, 1917-1918. Episode I
JIM comes forth with another great work on extraordinary entrepreneurship of a century ago.
Buchanan-Lyon figures heavily in the history of Adair and Taylor Counties. The story also represents ColumbiaMagazine.com's First Sunday History Serial, Complete in Two Parts on one Day. Episode I is Posted here. After everybody's mind has had a chance to rest and restart - give it two-four hours. Read Part II:
JIM: Buchanan-Lyon comes to Columbia, 1917-1918. Episode II
By JIM
In the photo here,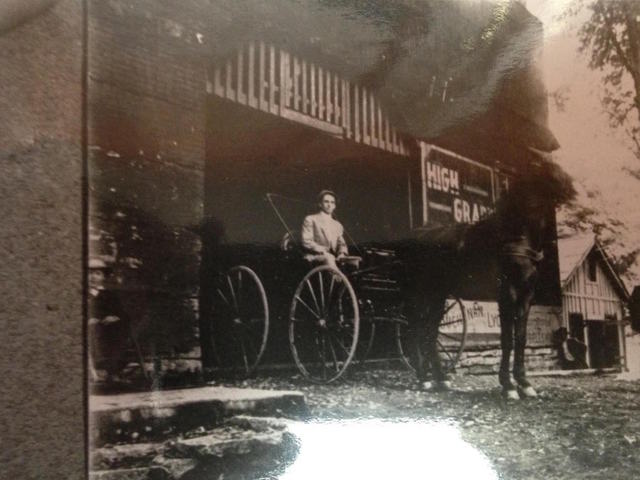 recently posted on CM from the collection of Mr. Barry Loy, the horse's legs and barrel frame a partially visible sign for The Buchanan-Lyon Co.
And therein lies a tale. Or two:
Buchanan-Lyon Comes to Columbia, 1917-1918

Background: Two Adair Countians Make Good in Campbellsville
This brief sketch gives a glimpse of W.R. Lyon, late of Adair County, and the company he ran:
"Born in Adair County, Kentucky, William Robert Lyon came to Campbellsville in 1893 to operate the Commercial Hotel. In 1896, he and Henry R. Turner purchased the Turner and Wright buggy company and renamed it the Turner and Lyon Company. He joined with Thomas W. Buchanan in 1909 to create one of the first wholesale grocery houses in the area, eventually buying the Campbellsville branch house of W. Wedekind and Company, for whom he worked. Buchanan-Lyon also added automobiles by becoming dealers for Maxwell and Ford..."
(from Images of America: Campbellsville,
by Joseph Y. DeSpain, John R. Birch, Jr., and Timothy Q. Hooper, 2010, p 32. Transcribed from image retrieved 2016 June 09 @)
An excerpt from article in the May 13, 1908
Adair County News
gave a bit more background (William's younger brother Robert J. was also associated with the enterprise):
"When the Lyon boys first started in business ten or fifteen years ago, the firm was known as Lyon & Turner and a little later the name was changed to Turner Bros. & Lyon, but for three years no one has been interested [that is, no other partner(s) else held ownership] but the Lyon Bros. and the firm named has been The Lyon Buggy Company."
At the end of 1908, news broke that "In order to expand business, take in more territory, adding wholesale departments," The Lyon Buggy Company and Undertakers and Embalmers planned to join with the T.W. Buchanan Hardware Company, the merger to become effective January 1, 1909. Continued the article, "The new home of the company will be the entire lower floor of the Jo Willock four-story brick building, now about completed."
Shortly thereafter, the business-by then known as Buchanan-Lyon-moved into its new quarters on Campbellsville's Main Street, and the owners hosted a week-long grand opening the first part of April. "A representative of the News," likely John Ed Murrell, in company of Mr. J.O. Russell, attended on Friday afternoon; the next edition of the paper devoted no fewer than four headlines (the first of which informed readers, "It Was a Hummer") and nearly a column and a half of text to the event, stating at one point, "If strung out there would be at least two acres of buggies and durable wagons...and all kinds of farming implements..."
Several other specific departments drew mention as well, including the Hardware Department (Mr. Buchanan's area of specialty),The Majestic Paint Department ("one end of the main room is filled with this brand"), and Saddles and Harness, as well as the Undertakers Department, saying of the latter,
"In a very short time after a casket is ordered it is in a hearse and on its way to the home that has been entered by Death. All varieties of caskets and coffins are kept in stock, the funeral director being Mr. R.J. Lyon, who has had many years experience in this line of business."
(Mr. R.J. Lyon was the father of Mr. Marshall Lyon, long-associated with Lyon-Dewitt-Berry Funeral Home.)
A Foray into Columbia: Enter & Exit the Brothers Sandusky
The November 1, 1916 News reported the Sandusky Brothers planned to build a 40 x 80 Ford Garage "near their planing mill on the street connection with the Stanford Road and Campbellsville pike." The article also mentioned the brothers were agents for "the Ford."
A few months later, the April 4, 1917 edition, a page six article headlined "It Will be a Whopper" reported the building would be "the largest and most conveniently constructed garage in all this country;" that it would both commodious and attractive; and that there would be "an apartment for the machinist and wood workman." The Messrs. Willis & Murrell, employed to erect the building, were then in the process of making the window frames.
Shortly thereafter, a piece in a mid-April paper (in a classic example of a text infomercial), urged those contemplating purchasing a Ford machine to get their orders in to the Buchanan-Lyon Company as soon as possible. The ad went on to state,
"This local firm caters to the trade of Adair County...[I]t will be to your interest to get in communication with the Buchanan Lyon Company, Campbellsville, Ky., or Sandusky Bros., Columbia, Ky. This last named firm, who work in conjunction with the Buchanan Lyon Company, are building a large garage in Columbia for the purpose of storing machines, keeping them in first-class repair, an experienced machinist being in their employ."
(Come the latter part of May, the
News
reported, "Buchanan Lyon Co. and Sandusky Bros., sold two machines in this county last week. One goes to Mrs. Carrie Walker, the other to Mr. R.C. Pulliam. Both parties live at Nell.")
Just a few months later, in August 1917, Sandusky brothers John, Frank, Joe, and W.H. sold their respective interests in another business, a lumber and planing mill, to C.H., the fifth brother. John, Frank and Joe had bought a three-quarter interest in flouring mill in Bradsfordsville, and soon removed there to reside. (C.H. stayed in Columbia to focus on the mill, and W.H. also remained in town, he to deal in timber.) Thus ended the Sandusky association both with Buchanan-Lyon and with Ford.
An Aside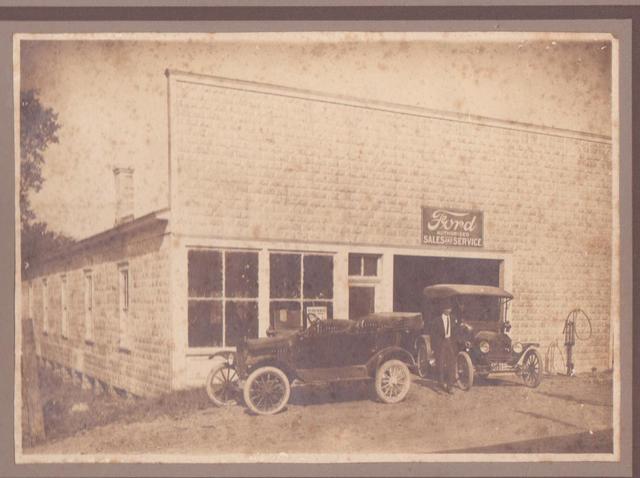 The writer leaves it to the Great Minds of Adair County to debate and determine if the building pictured here
is the "large garage" erected by the Sanduskys. The location (current-day 411 Campbellsville St.) certainly is in proximity of that cited as the location in 1916.

It's of passing interest that the March 6, 1918 edition of the News carried a "card" (small ad) from G.M. Stevenson, pictured in the photo linked immediately above.

"I have accepted the agency for the Overland Automobile, one of the smoothest runners on the road and is not complicated. I have one now on exhibition at my garage in Columbia. Call and see it if you want a car. G.M. Stevenson."

After appearing for a few weeks, that ad was replaced by another, slightly larger one that stated in part,

"I have secured Mr. Jo Ed Flowers as foreman in my repairing department, a man who has had years of experience in Louisville both in assembling new cars and as a mechanic in some of the leading repair shops...I also carry in stock a full line of Ford parts..."

About a year later, yet another ad briefly appeared, this one to tell the reading public, I have in stock Overland cars and repairs for Fords..."

Although the March 6, 1918 ad was the first to appear for Mr. Stevenson's business, the poster for the Weldon-Grenfell revival (visible in the window of the building) dates the photo in which he appeared a to time range of six or seven weeks--between the middle or end of July and early September, 1917-the same time frame during which the Sanduskys were exiting the automotive business.

If Mr. Stevenson's business were indeed housed in the Sandusky garage, his journey from home to work and back would have been of brief duration, as he lived but a short distance away, near the south end of the bridge on the Campbellsville pike.

Buchanan-Lyon and the Livery Barn & Lot in Columbia

In late October 1917 came news that

"The Buchanan Lyon Company, Campbellsville, have purchased from W.W. Jones and R.F. Paull the livery barn and lot fronting the Campbellsville pike and in a few feet of the public square [in Columbia]. The building will be put in temporary use for a Garage, and next year a large brick business house will be erected. It is the most convenient lot for business about town. The company will deal in Ford automobiles."

That was followed three weeks later by the comment,

"The old livery building will soon have the appearance of a business house. The Buchanan Lyon Company is now having a nice open front put in. The inside will have a hard wood and concrete floor and the ceiling nicely sealed. There will be any number of windows on either side."

In the next month, four more updates (Nov. 7, 21, and 28, and Dec. 12 editions) on the renovation appeared. The latter, headlined "Will Open Soon" reported that "...it will contain several dozen new Ford machines. The company will also keep a large stock of supplies, and will have in their employ expert men, hence if your machine should get out of commission, in a very few minutes it will be put in first class condition."

End, Episode I of Sunday History Serial.

Continue reading: JIM: Buchanan-Lyon comes to Columbia, 1917-1918. Episode II

---
(My many thanks to Ann Heskamp Curtis and Mike Watson for their contributions to this article.- JIM.)
This story was posted on 2016-06-12 08:50:31
Printable:
this page is now automatically formatted for printing.
Have comments or corrections for this story?
Use our
contact form
and let us know.