JIM: Weather Signs, 100 years ago, Feb 1916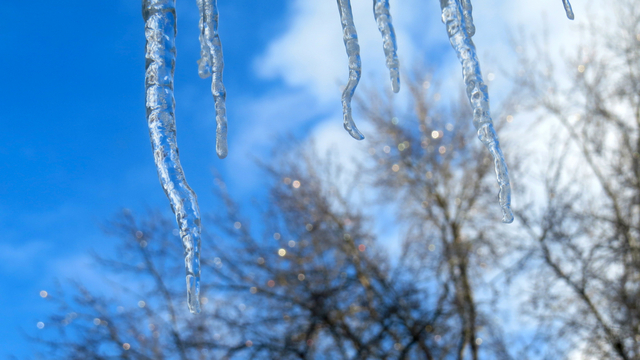 The old-timers, like Linda's Granddaddy Marcum, had powers of prognostication which work, even today, though modernity requires some to have to observe neighbor's chimneys to know to 'Expect a strong wind with stormy weather when smoke from chimney hangs near the ground.'
---
Click on headline for all the divers advices
By JIM
Linda's comment that her Granddaddy Marcum had "many sayings about the weather and signs in the sky" (See:
Mother Nature's artwork from storm one week ago
) presaged my rheumy old eyes chancing upon a list of weather signs first published in
Farm & Fireside
magazine an shortly thereafter, republished in the
Adair County News
one hundred years ago this week - early February, 1916. Said the introductory paragraph, "Experience has shown them to be fairly reliable and some of them can be explained on a scientific basis."
The list, as transcribed verbatim (within the limits of faltering sight and fumbling fingers) from the
News:
- Moonlight nights have the heaviest frosts.
- The higher the clouds the finer the weather.
- The farther the sight the nearer the rain.
- Dew is an indication of fine weather.
- When the stars flicker in a dark background, rain or snow follows soon.
- Expect a strong wind with stormy weather when smoke from chimney hangs near the ground.
- Here are a few in verse. They have the advantage of being easily remembered.
- Clear moon, Frost soon.
- Year of snow, fruit will grow.
- Rain before seven, fine before eleven.
- If the sunset is gray, The next will be a rainy day.
- When the wind's in the south, The rain's in its mouth.
- The wind in the west, suits everyone best.
- If you see grass in January, Lock your gain in the granary.
- Evening red and morning gray, Help the traveler on his way.
- Evening gray and morning red, Bring down rain upon his head.
- When the clouds appear like rocks and towers, The earths' refreshed by frequent showers.
(The list concluded with this piece of up-to-date advice: "If you can get the official weather report by phone you'd better count on that first. But the proverbs and jingles just given are better than a common guess.")
Compiled by JIM
This story was posted on 2016-01-31 09:41:03
Printable:
this page is now automatically formatted for printing.
Have comments or corrections for this story?
Use our
contact form
and let us know.