Happy Tail - Proud to call Kentucky My Home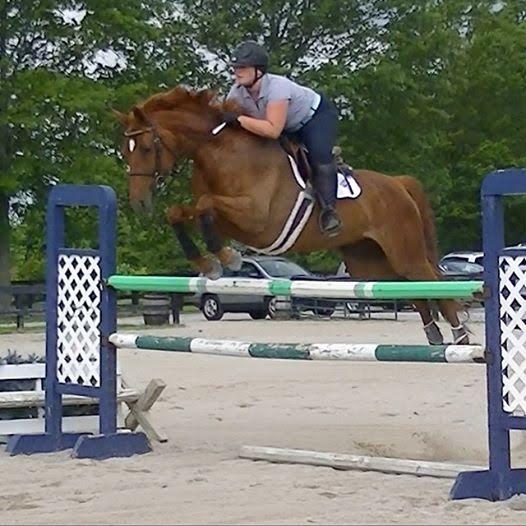 Peg covers big territory in this column: American Pharaoh & the Triple Crown. Watching her warmblooded mare in jumping clinic. Visits Punchestown. To Keeneland. To Hill & Dale Farm. To brushes with fame and thoughts on a dog-free weekend, a return to Columbia, KY, her chosen Kentucky My Home. Click on headline or photo for complete column
---
Next earlier Happy Tail:
Happy Tail - Dogs and cats have quirks, too
By Peg Schaefer
After a 37 year drought we have a Triple Crown Winner! American Pharoah made it look so effortless. He took the lead and held it all the way across the finish line. He won by 5 lengths. It was the second fastest Belmont in history. Secretariat holds the record since 1977. Penny Chenery, Secretariat's owner, was there to cheer American Pharoah on. I had goosebumps. You'd think he was my horse. Now he's America's horse.
I started watching the race coverage at 1:30 while multi-tasking. There was a race for the fillies called the Acorn Stakes. I was half listening to the names of the horses and their trainers when I heard the name of a filly, Danzatrice, whose trainer is Cathal Lynch. It turns out Cathal Lynch had adopted an Australian Cattle dog, Cowboy, from us. (I had written a Happy Tail about Cowboy on June 22, 2014). It was my brush with fame. Danzatrice ended up winning fourth place.
At jumping clinic to watch Garnet in jumping clinic
Last week I went to Lexington for the weekend to watch my mare, Garnet, in a jumping clinic with Dennis Mitchell, who is a former Grand Prix rider and has taught many other successful equestrians. Garnet loves to jump and the 4'6" fences were no challenge to her. Keith stayed home and took care of the farm so it was a dog free weekend. Two nights in a hotel and no dogs - it was very relaxing.
On Saturday the clinic ended early and I had the afternoon to myself. So I decided to go on a tour of KY horse farms and Keeneland. It was a small group of people on the tour from all over the United States as well as a woman from Wales. Our driver, Daniel, was very informative and entertaining giving us all kinds of tidbits and kept us laughing. Although I've lived in Kentucky for nine years now and have visited the Horse Park in Lexington several times I learned more than I could ever have imagined.
Toured Keeneland
We toured Keeneland and visited the Queen's room which was built specially for Queen Elizabeth when she came to visit. The movie
Secretariat
was filmed at Keeneland. Our driver and his wife were part of the 4,000 extras that appeared in the movie. Daniel told us how they had dummies in the stands and the extras had to cheer and shake the dummies to look like a huge crowd was there. He also told us how there were eight different Secretariats and War Admirals. In the match race War Admiral kept beating Secretariat (it happened the other way around) so they had to get a very tired War Admiral and a fresh Secretariat in order for the race to end with Secretariat winning.
Visited home of undefeated Triple Crown winner Seattle Slew
Another stop was Hill and Dale farm where Seattle Slew is buried. Seattle Slew is the only Triple Crown winner that was undefeated. He is buried standing up facing Churchill Downs. As we pulled down the tree lined driveway there was a worker mowing on a zero turn mower. He was tooling around and was unaware that the van was coming down the drive. Luckily we weren't going very fast because he pulled right into the path of the van. Then as we were leaving, the kamikaze lawn mower man, crashed into a tree. He gave us something to laugh about. The tour lasted 3 hours. It was definitely well spent. After the tour I went out to dinner. I had a great steak with sweet potato. It was nice to eat a meal without dogs staring at you.
Sunday I returned to Punchestown Stable to the jumping clinic. Again Garnet flew over the fences eagerly looking for the next one. When the clinic ended I drove back home.
Now, when I say "home," - my home is Columbia, KY
Before I moved to Columbia I had put a deposit on a house in Mount Sterling. Often I wonder how things would have turned out if I had moved closer to the horse park. As I drove home to Columbia on Sunday and passed through various towns I wondered how it would be to live there. But you know what? Columbia is where I was meant to be. A few weeks ago when they did the television program about Columbia I was amazed that I knew everyone who was spotlighted. I have never felt this sense of community ever. Then when I read that Columbia is #9 on the top 10 places to live in Kentucky I was proud. Although I've only lived here for 9 years I have never felt more at home than I do now. So when I say "home" my home is Columbia, KY. And there's no place like home.
---
Peg Schaeffer, Sugarfoot Farm Rescue,
860 Sparksville Road
Columbia, KY 42728
Sugarfootfarm.com
sugarfootfarmrescue@yahoo.com
Home telephone: 270-378-4521, Cell phone: 270-634-4675
This story was posted on 2015-06-07 02:54:39
Printable:
this page is now automatically formatted for printing.
Have comments or corrections for this story?
Use our
contact form
and let us know.