Happy Tail: The dog who cried 'Wolf' - Darryl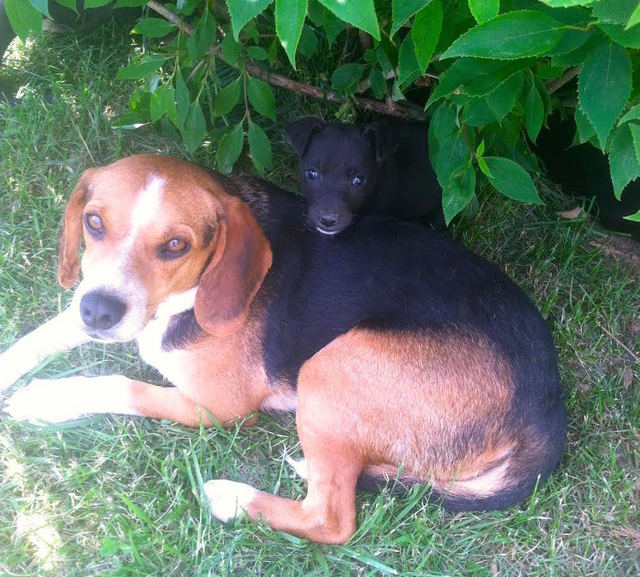 How the wily Darryl tricked Peg into a trip to Greensburg and McDonald's and a favorite food - sausage from HER Sausage and Biscuit, and has her worried that his little buddy, Duke, will learns his tricks.
---
Next Previous Happy Tail:
Happy Tail - Spanky, the red-nose pit bull
By Peg Schaeffer
Everyone who knows me knows Darryl. I've written a Happy Tail about my Beagle that has been more places than most people - most of them uninvited. So the other day when I thought he was sick I was very concerned.
Darryl is always by my side. If he's not in trouble he's laying by my feet while I'm at the computer, sitting by my chair at the table looking for some treats, or riding in the truck waiting for me to open the door so he can jump out (even if he's supposed to stay in). The other day he kept whimpering as if he was hurt. He came downstairs with me and lay on the Kuranda bed but whenever he moved he would cry out. He wasn't his usual active self.
Something had to be terribly wrong with Darryl
During the night while I was sleeping if I moved and touched him he would yelp. It got worse as the night went on. Darryl usually sleeps facing the foot of the bed so I turned around to check on him. He was very quiet and his breathing was very shallow. He was cool to the touch and he just rolled his eyes at me. He didn't even lift his head. I put my arm around him and slept next to him all night. He just lay very still and didn't move at all. I started to worry. Should I call the vet or wait until the morning? Then all the worst thoughts went through my head - what if he's dying? I'll be brokenhearted if I lose my buddy. Ed (Waggener) will be so sad. I even had it planned where I would bury him.
Darryl never moved - a sure sign something was wrong
Finally at 7:30 I called the vet. Darryl never moved while I went to the phone. Keith was at the kitchen table eating breakfast. I told him I was taking Darryl to the vet. "He's so sick I don't know if he'll even make it there." I quickly got dressed. Darryl lifted his head slightly. When he heard the word "truck" he jumped up, gave an excited bark, and was ready to go.
Keith laughed. I still was worried. What if I didn't take him to the vet and he got sick again? When Keith goes to work I don't have a vehicle to use. If he got sick again and he died I'd never forgive myself so I took him to the vet.
I did call them though to let them know it wasn't an emergency anymore but I was still bringing him. When we pulled in the parking lot Darryl couldn't wait to jump out. I put a leash on him and he hopped out of the truck and trotted into the clinic. His head was held high and his tail was wagging, arched over his back.
We got there before anyone else had arrived
Since it was just after 8 in the am there wasn't anyone in the waiting room so we went right into the exam room. The vet tech came out and took his temperature and reported it to Dr. Olt. When Dr. Olt came into the room Darryl jumped on her to say hi. As she was trying to listen to him with her stethoscope he kept licking her face. All I could do was apologize and explained to her how I was sure he was dying. She had him walk around the room to see if there were any signs of an injury. He was more than happy to prance around.
She suggested she could take blood samples and have them tested but at this point I don't know if I was more relieved, embarrassed, or mad at Darryl. She told me he might have just had a gas pocket. They can be very painful she said. So I told her I would take him home and keep my eye on him. Darryl said good bye to his friends at the hospital, jumped in the truck, and told the other dogs how he'd fooled me. Plus they all know if I'm up that early in the am it's breakfast at McDonald's. I get a sausage biscuit - the dogs get the sausage and I eat the biscuit.
Darryl's been fine since
Darryl's been fine since. The other day as I was in the drive through at the bank he pushed the button to roll the window down and jumped out. I was in line so I put the Tahoe in park and raced across the parking lot after him. He was at the door to the Operations Building and attracted the attention of three women. They were petting him as I raced up the stairs. He knew he was in deep trouble so he rolled on his back and asked them to save him from that mean owner. I scooped him up, put him back in the Tahoe. This time I locked him in his crate.
So Darryl has another place he's visited to add to his list - the bank. And he has another story to tell - how he faked being sick so he could go for a ride in the truck to visit Dr. Olt and get breakfast for everyone.
- Peg Schaeffer, President and Founder, Sugarfoot Farm Rescue
---
Contact us if you would like to help.
Peg Schaeffer, Sugarfoot Farm Rescue,
860 Sparksville Road
Columbia, KY 42728
Sugarfootfarm.com
sugarfootfarmrescue@yahoo.com
Home telephone: 270-378-4521
Cell phone: 270-634-4675
This story was posted on 2015-05-17 07:08:42
Printable:
this page is now automatically formatted for printing.
Have comments or corrections for this story?
Use our
contact form
and let us know.