Happy Tail - Spanky, the red-nose pit bull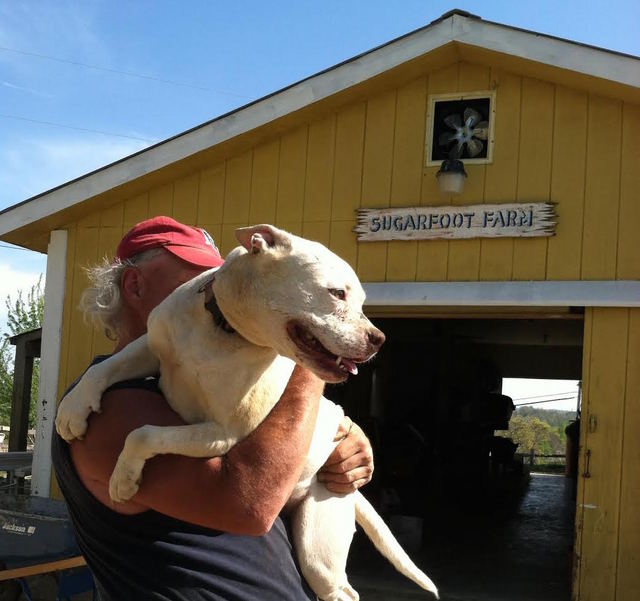 Spanky, a white pit bull, was rejected as a resident at Sugarfoot, but the owner dumped him at Sugarfoot anyway. Spanky had pit tendencies. He was very aggressive, but Peg & Keith discovered that the aggression was only aimed at other dogs. They've kept him. He's a not-available-for-adoption resident, and have learned to love him, and learn more about the breed.
---
Next Previous Happy Tail:
Bucket list item unrealized, to see Derby in person
By Peg Schaeffer
As I have said before I'm not a big fan of Pit Bulls so when I got a call from someone who wanted me to take their Pit Bull I told them no. The next morning when I went out to feed the horses there in the buffer zone was a white Pit Bull. She looked bewildered trying to figure out why she had been abandoned. I put a leash on her and lead her to the kennel.
In the walk up the driveway she tried to attack any dog that came in her path, even a puppy. I put her in a pen in the kennel while trying to decide what to do with her. I wouldn't take her to the shelter because of her aggressive nature. I was afraid she'd be euthanized and although I don't like the breed I didn't want to see her killed. Who knows what had happened in her life to make her this way. I named her Spanky and she became another member of our family.
Turns out Spanky was only dog aggressive
It turns out Spanky was only dog aggressive. She loved people. She was a massive dog, muscular and had a huge head and large jaws. If she saw you coming she would break out into a big grin. I'd go over to her pen and she'd jump up licking your face and happy for attention. In no time at all I taught her to sit on command. All she wanted to do was to please you.
Keith became her caretaker only because she was so strong I was afraid if I was leading her and she attacked another dog I wouldn't be able to control her. Every day Keith would take her outside to a pen we had built for her and every night he'd bring her back into the kennel. Rather than put a leash on her he would carry her in his arms like a big baby. Most of the time as he carried her she would be licking his face with a big grin on her face.
Spanky's pen was far from ideal. It was small and the gate was held shut with bungee cords. She had a dog house in there and shelter from the sun but not a lot of room to exercise. So when winter came Keith would take her out to the garden. She had lots of room to wander and was happy outside. The only problem was sometimes the other dogs would "fence run". They would run up and down the fence antagonizing her. Despite Spanky's aggressive nature she never made an attempt to jump the fence. When Keith would put her in the kennel there were a few dogs that would tease her. They'd jump up in the air and bark at her.
Spanky didn't show aggression toward Peg after she broke up fight
One day I was out in the kennel and one of the dogs started teasing Spanky. The dog jumped up and before you could blink Spanky grabbed the dog and pulled her into her pen. She latched onto the dog's face and wouldn't let go. I stood outside the pen begging Spanky to let the dog go but she wouldn't. So I went into the pen with Spanky, grabbed her collar, and tried to pull them apart. I was worried what would happen when Spanky released the dog. Would she bite me by mistake? Spanky had to catch her breath and when she loosened her grip just for a second the other dog flew over the fence and out of the kennel. Spanky never made a move towards me and looked at me as if to say "guess I showed her."
I went outside to check on the dog. Although she had teeth marks on her face there wasn't any life threatening wounds. Spanky could have done a lot of damage if she wanted but she didn't. And the other dog never bothered her again.
Page, a Blue Heeler puppy, bonded with Spanky
We had a litter of Blue Heeler puppies and one of them bonded with Spanky. Page was the shy puppy of the litter and a loner. She would sleep next to Spanky's pen in the kennel and when Spanky was in the garden Page would lay by the gate. Everyone needs a friend and Spanky wasn't any different.
Whenever people would come to adopt a dog and would see Spanky they'd ask if she was available. Keith and I had decided in the beginning that Spanky would stay with us. We were afraid if she got in the wrong hands they would fight her. Our other worry was that if someone adopted her and got lax she would attack a dog. We weren't worried that she would hurt a person but because she was so strong if she jumped on the wrong person she would be labeled dangerous and might be euthanized.
When Spanky passed out after trying a trick, it was a sign to head for the vet
One day I was playing with Spanky in her kennel. She would jump up and catch a treat. She jumped up and then fell down. She passed out for a second and when she came to she went in the corner to lie down. She wasn't the usual active Spanky. It happened a day later and I called the vet to make an appointment. We had never taken Spanky to the vet because we didn't know how she would react with other dogs in the waiting room. So the day I took her I didn't know what to expect. I also had two other dogs to take with me. I put Spanky in a crate and off we went. When I got to the vet's I took the other two dogs into the waiting room and when it was our turn I took them into the exam room and went back to the truck to get Spanky. She walked into the waiting room as if she was going into the kennel. She paid no attention to the other dogs and when she went into the exam room spread out on the cool tile floor. She ignored the other two dogs in the exam room and was very relaxed.
Dr. Olt examined her and discovered she had a heart murmur. Spanky was a model patient and even gave Dr. Olt a thank-you kiss when she was done. She was put on medication and I brought her back in two weeks for another checkup. Again, Spanky was on her best behavior. She was given a clean bill of health.
Spanky had never been spayed only because I was leery about taking her to the vet. Since she had been so well behaved both visits we made an appointment to have her spayed. Again, I wasn't sure how she would react being left overnight with other dogs in the clinic but she was on her best behavior. She was glad to go home, said her good byes to Dr. Olt and her staff, and got into the truck.
Spanky has been staying in the garden during the winter and early spring but when planting time came it was time for her to be moved out. Keith and I didn't want her to have to stay in the small pen so we took a weekend to build her a better place. She got to stay in the garden while we were working. She could watch us. While we were working I saw Rudy, one of our Chihuahuas in the garden. My heart went into my throat. I was sure Spanky would eat him in one bite. Spanky looked at Rudy and never gave him a second thought. I relaxed. Then Sadie climbed over the gate. Sadie is a troublemaker and I was sure there would be a fight. But again Spanky paid Sadie no mind and went about her business.
Keith built Spanky a run fit for a Queen.

Keith built Spanky a run fit for a Queen. She has lots of room, a dog house, and a tree that shades her pen. She can watch me while I work in the garden and I go over to pet her several times while I'm planting. She's always glad for the attention. Keith brings her in the kennel when he comes home from work and lets her out again in the morning. He no longer carries her but walks her on a leash. The other dogs don't bother her and she seems happier.

Seven years ago Michael Vick, was indicted on charges relating to an illegal dogfighting ring. The pit bulls involved in this fighting faced horrific abuse. Many, including the Humane Society of the United States, believed the animals were damaged beyond rehabilitation. But the Best Friends Animal Society disagreed. Best Friends took in 22 of the most traumatized pit bulls from Vick's fighting ring. After lots of love, care and rehabilitation, these 22 became known as the Vicktory Dogs. Currently 10 of the Vicktory Dogs are thriving with their adopted families, some living happily with other dogs, children and even a cat. Twelve dogs were adopted in total, but two died. Seven remain at the Best Friends facility where their caregivers love them and continue to look for ways to enrich their lives through various ways including training, one-on-one car rides and giving them individual attention. The Vicktory Dogs are a testament to the power of hope.

It's been a while since a red nosed Pit Bull we call Spanky was abandoned in the buffer zone and it's amazing how she's turned around. It has taken time but it has been well worth it. It has been proved that if you treat each dog individually and give them a chance, they can show how much potential they really have.

Spanky made Peg change mind about Pit Bulls
- Peg Schaeffer, President and Founder, Sugarfoot Farm Rescue

---
Contact us if you would like to help.

Peg Schaeffer, Sugarfoot Farm Rescue,
860 Sparksville Road
Columbia, KY 42728
Sugarfootfarm.com
sugarfootfarmrescue@yahoo.com
Home telephone: 270-378-4521
Cell phone: 270-634-4675
This story was posted on 2015-05-10 00:56:52
Printable:
this page is now automatically formatted for printing.
Have comments or corrections for this story?
Use our
contact form
and let us know.