Blackberries may be the New Black Gold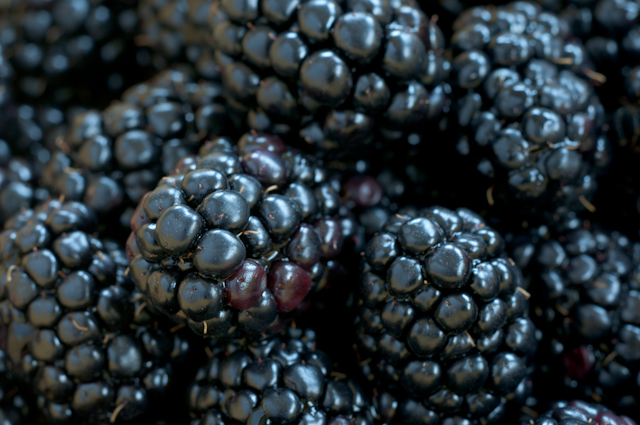 The tide has turned and the new hero in the berry wars is the thornless Blackberry. Harvesting blackberries is now no pain - all gain. Blackberries are a culinary super fruit. -BARBARA ARMITAGE
---
By Barbara Armitage
News from the Adair County Garden Club
Blackberries are like the middle child in a big family. Too often they are over looked in favor of the flashier strawberry or those cute little blueberries at the supermarket.
Maybe because until recently picking Blackberries was like going to war - you have to suit up to protect yourself from being ripped to shreds from thorns sharp enough to penetrate bullet proof vests.
Serious pickers strap on holsters packing 6 shooters of Deet to fight back the hoards of ticks waiting to suck the blood out of you the moment you set foot in the field. Not to mention Mother Nature's marauders the Red-wing Blackbirds, Bluebirds, Jays and Cardinals who scout out the precious Blackberry patches from the sky with the precision of jet fighter pilots while the skunks, possums and raccoons lead the ground forces converging on the target before you can recite Grandma's Blackberry Cobbler recipe.
Well the tide has turned and the new hero in the berry wars is the thornless Blackberry. Harvesting blackberries is now no pain - all gain.
Maybe because of horror stories of past Blackberry picking expeditions even now the Blackberry goes unappreciated. In truth Blackberries are a culinary super fruit. One cup of fresh Blackberries has about 62 calories, 1 gram of fat, 15 carbohydrates, 8 grams of fiber, 2 grams of protein and only 1 mg of sodium. And they taste great!
Studies at Ohio State University have shown remarkable findings. Blackberries are one of the top ten foods containing antioxidants and they are packed with polyphenols which help prevent cancer and heart disease. Blackberries can even help with memory retention and the risk of hypertension. Eating Blackberries helps strengthen blood vessels and fight heart disease.
Blackberries are high in Vitamin C, Vitamin A, Vitamin E, Vitamin K, Manganese and are among the highest fiber content plants in the world.
Don't wait - we are fast approaching the peak of our local Blackberry production. Blackberries as well as other healthy foods are available now at the Adair County Farmer's Market, at the Adair County Extension Office, 409 Fairground Street, Columbia, KY.
For your conveniance the ACFM is now open on Tuesday's from 6am-10amCT and again from 3pm-6pmCT, Friday's from 6am-10amCT and Saturday's 7am-10amCT.
- Barbara Armitage
This story was posted on 2012-06-30 05:48:08
Printable:
this page is now automatically formatted for printing.
Have comments or corrections for this story?
Use our
contact form
and let us know.