Chamber Insights business news, June 2006
In this issue:
Opportunity to be Corporate Sponsor of Month
Corporate Sponsor of Month: Key Mortgage Co.
President's Message: from Darrell Overstreet
New Members
Membership now up to 163
The need for volunteers and places in Adair County needing volunteers
Green River Animal Shelter is open
Winners in Chamber Golf Tournament listed
---
Two ColumbiaMagazine.com photos of the annual Chamber Picnic linked at the end of the story
---
Welcome to
Chamber Insights,
the monthly newsletter of the Columbia-Adair County Chamber of Commerce
Editor
- Sue Stivers
Feature writers:
Darrell Overstreet, Barry Corbin, Katy Davis and Monica Rodgers
---
Thought for the Month:
"A civilization flourishes when people plant trees under which they will never sit."
---
Corporate Sponsor of the Month: Key Mortgage Co.
---
The Chamber is always looking for ways of improving the Chamber of Commerce. In March of this year, a new feature was implemented as Corporate Sponsor of the month.
If you would like to showcase your business and become a Corporate Sponsor, contact Sue Stivers at the Chamber Office, located at 201 Burkesville Street or call at 384-6020.
Key Mortgage Company, owned by Barry Corbin and Darrell Overstreet was the Corporate Sponsor for the month of June, hosting the annual "Picnic in the Park."
The Chamber Board would like to express their thanks and appreciation to Key Mortgage Company for being the Corporate Sponsor of the month. Other sponsors have been United Citizens Bank and Bank of Columbia. Another big "thank you" to each of our sponsors.
---
President's Message from Darrell Overstreet
---
June has been a very busy month for the Chamber.
Tuesday June 13th was the annual Chamber of Commerce Picnic held at the roadside park.
There was an excellent attendance and everyone seemed to enjoy the evening. This is a great informal event for chamber members to share with each other.
I want to thank Richard Phelps for providing the grill and for doing such great job in overseeing the upkeep of the Roadside Park. Everything was in great condition for the picnic.
The music was provided by Tonya Meece and Susan Peck and those gals did an awesome job.
Big thanks to Mark Harris for setting up the sound equipment. Key Mortgage Co. was the corporate sponsor and provided the picnic meal without cost to those who attended.
Picnic raised money for Relay for Life
The attendees were ask to give to the Relay for Life as if paying for the meal. Special thanks to my wife Barbara for preparing and setting up the picnic meal and thanks to Barry Corbin for cooking hamburgers and hotdogs over a very hot fire. I want to thank everyone for coming and being a part of the chamber picnic.
Chamber Golf Tournament was success
On Thursday June 15th the annual Chamber of Commerce Golf Tournament took place at Pinewood Country Club. Very special thanks go to Monica Rodgers, Dave Johnston, Jada Curry, Robby Shelton, Barry Corbin and Stephen Keen for all the hard in putting together the Golf Tournament. They have done a great job and I want to express our appreciation for their dedication and commitment.

Wares Fair coming up in August at LWC

We have talked about the Wares Fair for several months and that time is fast approaching. The Fair is scheduled for August at Lindsey Wilson College. You will be hearing more about that in the near future.

As you can see things are on the move in Columbia and Adair County and you can be a part of that. Join the Chamber and help us with your support and participation in the happenings in 2006. Remember, COLUMBIA, KY, A great Place to Call Home.

---
New Member Highlights!
---
The welcome mat is always out to new Chamber members.

We are happy to welcome the following new members to the Columbia-Adair County Chamber of Commerce during the month of June.
Columbia Music Center is a new business located at 305 Greensburg Street in Columbia. Chris Bennett is the owner. Phone number is 384-1011.
Jobe Publishing Inc./South Central Business Journal is located at 101 North Public Square in Glasgow, Kentucky. Jeff Jobe is the owner and Stephen Hughes will serve as Chamber representative. Phone number is 270-659-2146.
A special Thank You to each of you for becoming a part of the Chamber family. Your investment in the Chamber means an "Investment in Our Community." We appreciate your membership and encourage you to become involved as your time allows and we wish your business much success. Your membership shows that you believe in the mission of the Chamber.

---
Key Mortgage Company, Inc.
Corporate Sponsor of the Month
---
Key Mortgage Company, incorporated March of 2006 with Barry Corbin and Darrell Overstreet owners, purchased the office equipment and obtained the business lease from Peoples Exchange Bank.

Peoples Exchange Bank proposed changes in operational procedures which gave Darrell and Barry the opportunity to start a mortgage company at the same location and also retained the banks experienced staff as well.

Barry has over 25 years of banking experience and Darrell has over 21 years experience in mortgage loans.

Combining Barry, Darrell, Linda, Mary, Angie and Lori, Key Mortgage offers over 90 years experience in the mortgage business.

Key Mortgage originates several types of residential mortgage loans, specializing in FHA, VA, RHS, Kentucky Housing, conventional fixed rate loans, 100% mortgage loans and loans for houses with acreage.

Key Mortgage is locally owned and operated with the owners being 100% involved in the day to day operation. They are available to pre-qualify and counsel anyone who might be shopping for a house. Pre-qualifying lets the borrower know the price range best suited for his or her family income. Barry and Darrell feel that the many years experience and the hands on operation affords the borrower an opportunity to obtain the loan program that will be best for them.

---
Membership Update
---
The Chamber now has members who have renewed their membership for 2006and 20 new members for a total of 163 members. Every business in Adair County should be a member of the Chamber of Commerce. The Chamber works almost every day with the State and Federal governments on issues regarding small businesses.

One example of an issue that the Chamber has worked extremely hard during the past couple of years is on tax relief for small businesses. As you know, the House and Senate were unable to agree on legislation and the session ended with only modest relief being enacted as part of the budget bill. Work will continue to be done on this issue.

There are so many other issues that the Chamber works on that helps not only small businesses, but helps to make our community a better place to live.

If you are a business or an individual who believes in the mission of the Chamber and wants to see our community to continue to improve, then you should be a member of the Columbia-Adair County Chamber of Commerce.

For information on how to be a member, you may contact Stephen Keen, Chamber Vice President who also serves as membership chairman, or any member of the ChamberBoard of Directors or the Chamber of Commerce You may also drop by the Chamber Office at 201 Burkesville Street or call 384-6020 and talk with Executive Director Sue Stivers or Office Manager Katy Davis.


---
The Need For Volunteers
---
Volunteers are needed in every community and Columbia - Adair County is no exception. Volunteers are an asset toour community, state and nation. The Columbia-Adair County Chamber of Commerce says "hats off" to the many volunteers we have in our County. They truly have the spirit of volunteerism that is alive!

Did you know the value of a volunteer's time is $18.04 per hour for 2005, accoring to the Independent Sector, an advocacy group for volunteers and community service groups. It's a challenge to place a dollar value on the important work volunteers do for our community, but this number can help put into perspective the enormous contributions provided by our volunteers.

Why volunteer? Volunteering helps to meet actual community needs, a spirit of community service, personal satisfaction of knowing you are making a difference in the lives of individuals and the community, a sense of community pride, promoting Columbia/Adair County as a good place to call home ... .just to mention a few reasons for volunteering.

Most of us have two hands....the first hand is for helping yourself and the second hand is for helping others.

One issue facing Adair County is the need for more individuals to become volunteer leaders. Our county is blessed with many people who could be giving of their time and talents in helping organizations, working with activities and events, taking leadership roles and helping to make our community a better place to live.

Where could I volunteer?

Here's only a few of the places you can volunteer:

Chamber of Commerce, Green River Animal Shelter, Festivals, Christmas In Columbia, Westlake Regional Hospital Auxiliary (gift shop), Adair County Fair, Jaycees, American Cancer Society (Relay for Life), Lindsey Wilson College, Little League (Baseball, softball, basketball, football), Rotary Club, Woman's Club, Substance Abuse Task Force, Salvation Army, school activities and events, Henry & Janice Holt Giles Foundation, etc.

If you would like to be a volunteer, or would like additional information, you may contact Executive Director Sue Stivers at the Columbia-Adair County Chamber of Commerce office located at 201 Burkesville Street or call the office at 384-6020.

---
Green River Animal Shelter
The Green River Animal Shelter is open for business!
---
The shelter is located on Jim Blair Road which is behind the Adair County Youth Development Center on Highway 55 across the parkway in Columbia. It serves Adair, Russell and Metcalfe Counties and it is open Tuesday through Saturday, 11:00 a.m. to 4:00 p.m.

It houses dogs and cats who are stray, abandoned, abused and surrendered by their owners. These adorable animals are all available for adoption; they make wonderful pets and you will know that you've done a good deed and saved a life.

The shelter and animals are always in need of towels and blankets, chew bones, toys and attention!

That's right, we need volunteers willing to come out and spend some time with these furry friends.

You may take the animals for a walk around the premises, give them a bath, groom them, or hold them. Animals who learn to be social with people and other animals will be more likely to be adopted. Anyone can volunteer at the shelter but those under 14 years of age must be accompanied by an adult.

For more information on these adoptable animals, to volunteer a little of your time, or to drop off supplies, please call Director Jeff Thomas at 385-9655. And remember, Don't Litter, Please Spay and Neuter!


---
Golf Tournament
---
The Columbia / Adair County Chamber of Commerce held its 4th Annual Golf Tournament on Thursday, June 15th, 2006 at the Pinewood Country Club.

The tournament was a huge success with 69 golfers competing. The tournament began with pairing the A Players and a blind draw paired the teams.

The 1st place team came in with 14 under par.

Four teams with a score of 12 under par competed in sudden death play to vie for 2nd/3rd places. The sudden death match lasted over 2 hours (5 holes).

Winners of the Tournament are as follows: 1st place Drew Burwash, Ron Heath, Michael Loy and Bruce Wilson. 2nd place Steve Nixon, Robbie Harmon, Ryan Bryant and Butch Wheatley. 3rd place Joe Smith, Jordan Shelton, Doyle Lloyd, Gary Hadley and Curt Yarberry.

The Columbia-Adair County Chamber of Commerce would like to thank all of the sponsors of our tournament. You helped make this tournament a great success and we appreciate you all very much. Sponsors are as follows: Corporate Sponsors:

BANK OF COLUMBIA, BRANSCUM CONSTRUCTION, CENTRAL KENTUCKY REALTY, DR. CHUCK & MELISSA GILES, DUO-COUNTY TELECOM, FIRST NATIONAL BANK, GADDIE-SHAMROCK AND KEY MORTGAGE.

Hole-In-One Sponsor: Don Franklin Ford-Mercury

Putting Contest Sponsor: United Citizens Bank

18-Hole Sponsors: Adair Progress, Bob Barnes Plumbing, Community Trust Bank, Downey Eye Clinic, Family Home Health Care, Grimsleys Jewelry & Bluegrass Cellular, Hancock Tire, Insurance Etc., Jeffries Hardware and Wholesale Electric, L.E.A.D. Adair County, Lindsey Wilson College, MLS Showroom, NAPA Auto Parts, Quality Personnel, Reed Brothers Insurance, State Farm Insurance, WAIN Radio and Walker Real Estate.


This story was posted on 2006-06-27 18:06:15
Printable:
this page is now automatically formatted for printing.
Have comments or corrections for this story?
Use our
contact form
and let us know.
Grilling at the annual Chamber picnic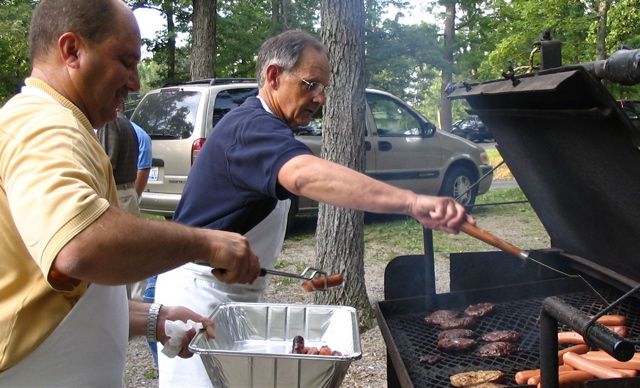 2006-06-13 - Columbia - Photo by Linda Waggener. BARRY CORBIN, left, and DARRELL OVERSTREET grilled hamburgers and hotdogs and even some veggie burgers to please the crowd in attendance at the annual Chamber of Commerce picnic Tuesday, June 13. The event was held at the Roadside Park, KY 55 South, Columbia, which is maintained by the Chamber. Overstreet, President of the Chamber, introduced dignitaries in the crowd and noted that the grill was provided by past President Richard Phelps who helped behind the scenes this year but was unable to attend because of the overflow visitation at the funeral home for Rex Coffey.
Read More... | Comments? | Click here to share, print, or bookmark this photo.


At the annual Chamber of Commerce picnic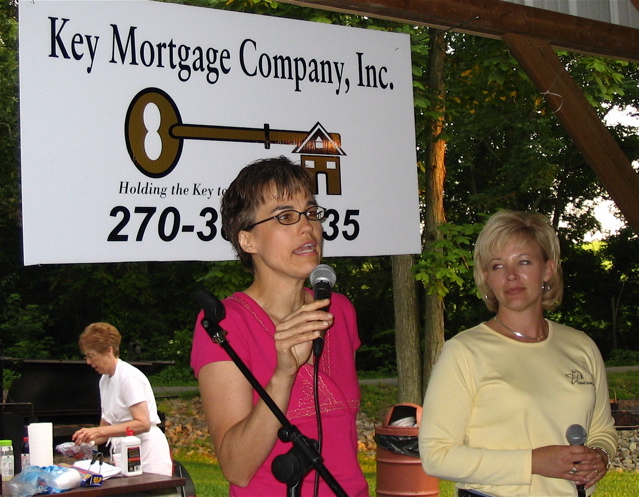 2006-06-13 - Columbia - Photo Linda Waggener. SUSAN PECK, left, and TANYA MEECE PROVIDED BEAUTIFUL SINGING Tuesday night at the annual Chamber of Commerce picnic at the State Park on Highway 55 South. They sang one hymn together, then each sang a solo as the sun set over the crowd in attendance under the largest of the picnic shelters. In the background is Barbara Overstreet who got many compliments on her fresh pasta/vegetable salad and cowboy-style baked beans. She said she would be happy to share her recipes. Corporate sponsor for the event was Key Mortgage Company of Columbia.
Read More... | Comments? | Click here to share, print, or bookmark this photo.