Scott Spires: Knifley's Best, America's Finest - The Greatest Generation
They would be honored to know, that after all these years, our gratitude to the Greatest Generation has not wavered.
By Scott Spires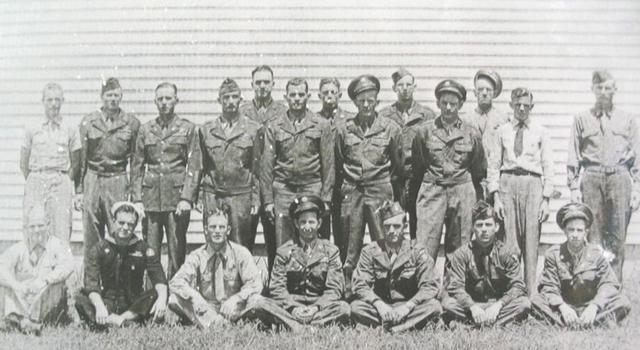 The ominous clouds of war had stayed in the sky for so long that most Americans had grown complacent with the war rumors. But now; overnight, every American realized the cold hard truth. We are at war! Not only to defend the free world, but also to fight for our very existence as a nation.
From cities, towns, villages and farms across the land, Americans were called to do their duty. Military or civilian, everyone would contribute to the war effort. To underscore just how deadly serious the situation was, no discharge date would be issued to those in the U.S. military. Simply put, you were enlisted until the war ended.
A release was possible in two ways. If one suffered serious injury or was Killed in Action (KIA). If the war ended well for the United States, most military personnel would receive a discharge of "Time Served" (Plus six months for processing out).
During the initial onset of World War II, two colossal tactical errors were made by the Japanese Empire and the Third Reich.
By attacking the neutral-leaning, war-leery United States, the Axis powers assumed American public opinion would not support an all-out war. Rather some sort of an accommodation would be reached. They were wrong!
These hostile acts once and for all took the United States off the sidelines of neutrality and placed American public opinion 100% into the Allied camp. Secondly, the Axis powers assumed the United States could not wage a war on two fronts. Especially in light of just having the U.S. Pacific Fleet decimated at Pearl Harbor. The Axis powers were wrong on this count also.
America would now assemble and unleash the most formidable military machine in the history of the world. The Axis powers had sealed their fate. It was only a matter of time before. The Americans would arrive!
"I ask that congress declare that since the unprovoked and dastardly attack by Japan on Sunday December 7th 1941 A state of war has existed between the United States and the Japanese Empire."
--President Franklin D. Roosevelt's address to the nation, December 8th 1941
"The Government of Germany consequently discontinues diplomatic relations with the United States of America... Germany too, as from today considers herself as being in a state of war with the United States of America"
--Excerpts from German Foreign Minister Joachim von Ribbentrop, December 11th 1941
"I am just a farm boy from Kentucky. What am I doing here?"
--Soldier/Writer Henry Giles of Knifley, Kentucky. D-Day June 6th 1944
The Homefront
On the homefront, in the sleepy farming community of Knifley, KY. The residents learned of the attack on Pearl Harbor like most other Americans, thru radio broadcast.
When the call to arms went out for the deadly, unenviable task ahead, Knifley answered with the best group of young men that could be assembled.
Most had never traveled out of South Central Kentucky or had spent much time away from their family farms. Now life as they knew it would change forever. In a very short time they would become trained soldiers, traveling thousands of miles from home. Going full speed and knee deep into unspeakable gore.
For all of our soldiers, this was a dreaded, required trial-by-fire to save our Republic. Eventually, through many battles and with the guidance and provision of God, the United States prevailed over tyranny, thus stopping all those who sought to forever erase our nation from the face of the earth. At war's end, most of the military personnel from Knifley, KY--including five of my uncles, William, Joe, Robert, Ivan Spires and William (Billy) Hancock--returned home safely.
And they all were ready to get back to civilian life. Back to their family farms, the hills and hollows, the Green River and Spout Springs.

To the only home they had ever known... Knifley, Kentucky.

Knifleys Best, America's Finest: The Greatest Generation
It has been 73 years since the end of World War II. Even if you are not attending a Veterans Day tribute, please take a moment to say a kind "Thank You" to the Veteran you may encounter along your way. Maybe even send up a brief prayer for our Veterans. They would be honored to know, that after all these years, our gratitude to the Greatest Generation has not wavered.


---
Author Scott Spires' family is from Knifley. Most have passed away, and he says he misses them very much, especially his Grandparents Ancil an Martha Spires. Knifley will always have a special place in his heart.
This story was posted on 2018-11-11 11:18:33
Printable:
this page is now automatically formatted for printing.
Have comments or corrections for this story?
Use our
contact form
and let us know.